New Relieve Stress Silicone Push Bubble Stationery Storage Cute Fanny Bag Press It Decompression Coin Purse Finger Toy
October 29, 2022
1- 4Pcs Novelty Spring Dog Pop Tubes Sensory Toy Stress Relieve Bellows Toys For Adult Kids Anti-stress Squeeze Toys Gifts
October 29, 2022
2022 Toy Fat Brain Slug Articulated Flexible 3D Slug Fidget Toy All Ages Relief Anti-Anxiety Sensory Toys for Children Aldult1
$7.95
SKU:

1005004301080860
Category: Shop
2022 Toy Fat Brain Slug Articulated Flexible 3D Slug Fidget Toy All Ages Relief Anti-Anxiety Sensory Toys for Children Aldult
Description:
【Great Decompression Experience】A very playable,very decompression decompression toy,so you no longer worry and worry.You can t wist the Slug body at will,while swinging the Slug toy on your hand,it will make a crisp sound,Touch and hearing give anxiety a very comfortable decompression feeling.
【Trengthen hand exercise】These Slug pressure toys can not only relieve stress,but also strengthen hand exercises and relieve pain.They are especially suitable for people who often use computers or other jobs;they can be easily pulled and rotated,making them ideal stress-relieving toy.
【Imitation Slug】A sensory toy with an ingenious spherical design inside that can be twisted as you like.gives people a real feeling that is very similar to the ripples on the water surface,the wave design with uneven edges exercises the child's grasping ability and massages the palms.
【Clever design】The use of drop-resistant plastic material,The ingenious joint spherical design of the internal connection, if you use too much force to separate the joints, please don't worry, this toy can be reassembled!
【Interesting,Creative Gift】The Slug Toy is a great gift.Can be used for children,teenagers and adults.Family and friends are suitable.Christmas,Thanksgiving,Halloween,birthdays,etc.are all great gifts.
Product Information Product Name:Slug Toy.
Material:plastic
Package includes:1 *fidget Slug Toy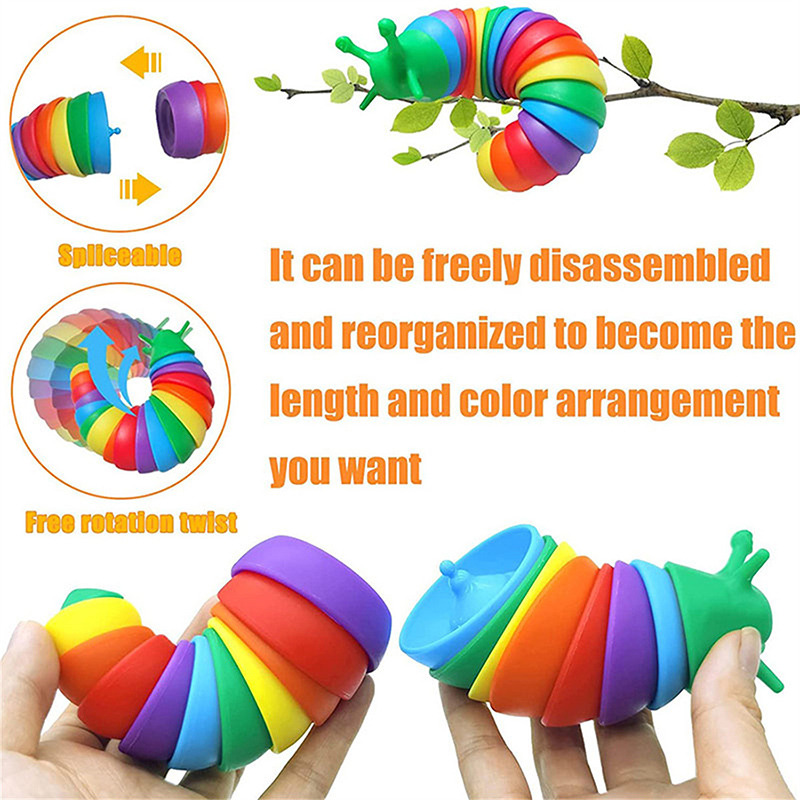 | | |
| --- | --- |
| Origin | Mainland China |
| Recommend Age | 7-12y,12+y,14+y,18+ |
| Certification | China certified (3C) |
| Theme | Animals & Nature |
| Feature | Fidget Toy |
| Feature 1 | Toy Fat Brain Slug Articulated Flexible |
| Feature 2 | 3D Slug Fidget Toy |
| Feature 3 | Anti-Anxiety Sensory Toys |
| Feature 4 | Sensory Toys |
| Feature 5 | Slug Sensory Toys |